Valliyoorkavu Temple

This Temple is dedicated to Mother Goddess, manifest in three principal forms of Vana Durga, Bhadrakali and Jala Durga is an important place of worship for the tribal communities in Wayanad. The annual 15 day festival is in March/April. The temple is 24 Kms. away from Kalpetta, 31 Kms. away from Sulthan Bathery and 5 Kms. away from Mananthavady. 

Best Season: March/April

Nearest towns: Mananthavady, Panamaram

How to Reach: 
Nearest Railway Station : Kozhikode, 72 kms by road from Kalpetta
Nearest Airport : Karipur International Airport, Kozhikode.
Thrissilery Shiva Temple

This stunning temple of rather perfect architectural proportions, is inextricably linked with the Vishnu temple at Thirunelly. It is believed that the performance of ancestral rites at Thirunelly remain unfinished unless followed by offerings at this temple. Within the premises there is also a shrine devoted to Jala Durga, believed to have been installed by no less a personage than the legendary Parasurama. 

There are many myths connected with the temple tank here, which curiously enough never dries up! The temple is 50 Kms. away from Kalpetta, 25 Kms. away from Sulthan Bathery and 41 Kms. away from Mananthavady.
COURTESY-Mathrubhumi Travel
Seetha Lava-Kusha Temple

This is the only known temple dedicated to Lava and Kusha, the sons of Lord Rama. Local legends connect this region with many important episodes from the Ramayana. As the favoured shrine of the Pazhassi Raja, this temple has traditionally permitted entry to devotees from all faiths. The temple is 50 Kms. away from Kalpetta, 25 Kms. away from Sulthan Bathery and 41 Kms. away from Mananthavady.
Pallikkunnu Church
Dedicated to the Lourdes Matha, Pallikkunnu Church in Wayanad was established in 1905 at the initiative of a French Missionary Fr. Jeffrine. An interesting aspect of this church is that it has several rituals and practices similar to those prevalent in Hindu temples. The annual two week 'Perunnal' festival in early February draws large number of devotees from other parts of Kerala, as well as outside. The temple is 19 Kms. away from Kalpetta, 38 Kms. away from Sulthan Bathery and 23 Kms. away from Mananthavady. 
Best Season:

February
Nearest towns:

Kalpetta (19 Kms away), Kambalakkad
Pakshipathalam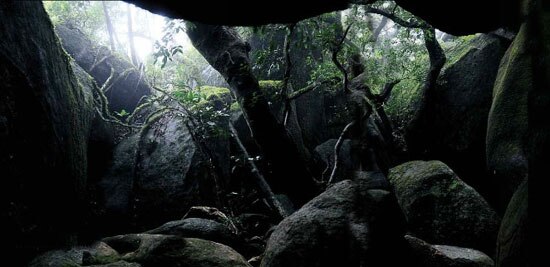 Situated at an altitude of 1740m and accessible only by trekking, Pakshipathalam is home to several species of birds and is an ornithologist's paradise. It is located in the Brahmagiri Hills near Thirunelly. There is a cave here, which according to legend, was used by rishis (saints) for meditation in ancient times, has become a major attraction for tourists.
It is a challenging tourist spot for any adventure-seeking tourist. The deep rock caves; formed among the thick blocks of rocks at the northern top end of the Brahmagiri are the abode of various birds and wild beasts. The place is bet knows for the presence of `Edible Nest Swift light' as its nest is made of solidified saliva and is used to make bird's nest soup.
Here virgin forests, streams and steep hills together offer challenging avenues for trekking.
Location

North Wayanad, near Tirunelli temple.
Distance Chart: Mananthavady: 36km/ Kalpetta: 71km/ Sulthan Bathery: 78km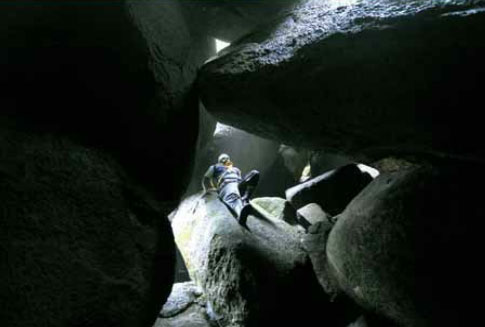 How to reach

Pakshipathalam is about 7 km away from Thirunelli and trekking is the only mode of reaching this place. Thirunelli is about 32 km from Mananthavady. Buses are available upto Thirunelli Temple.
The trekking starts from North Wayanad Forest Division. From there one would reach the first point, which is the Watch Tower in one and half hours. The Kerala Karnataka border is in 2 km distance from the watchtower. Though Pakshipathalam situated in Kerala, we can reach there only through Karnataka. The landmark after the watchtower is Pancharathodu, which is 2 km away from Kerala Karnataka border.
Then Pakshipathalam is just 500 m away for Pancharathodu. The trekking is for total 7.5 km, which can be completed with approximately three and half hours.
Bus timings: to Tirunelli from Mananthavady bus stand: 5.50am, 7am, 8.15am, 8.40am, 8.55am, 9.15am, 10am, 11am, 12.10pm, 1pm, 2pm, 2.45pm, 3.35pm, 4.10pm, 5pm, 5.45pm, 6.30pm, 8.30pm
To Mananthavady from Tirunelli: 7am, 7.40am, 8am, 8.40am, 9am, 9.30am, 9.45am, 10.25am, 10.35am, 11.20am, 11.40am, 1.10pm, 1.45pm, 2.45pm, 3.45pm, 5.10pm, 5.45pm, 6.30pm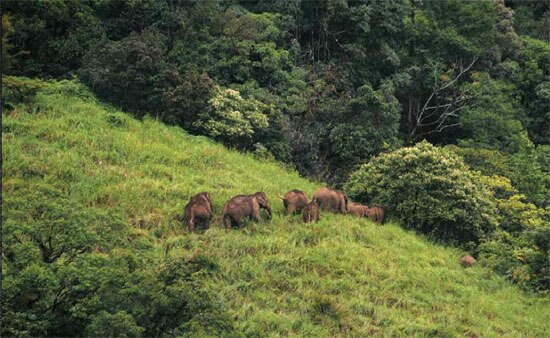 Things to be noted

Trekking must be started at 7.30 itself, as total 7 hours would be needed for the total journey
Keep 
silence during trekking
Obey the instructions of the guide
Carry a first aid kit with needed medicines
Don't use plastic bottles and kits
Never disturb the birds and animals
Use jungle boots for trekking
Carry a battery torch with enough batteries
To save from leaches, rub a mixture of tobacco and mustard oil in legs. Carry tobacco and salt.
If leach bites you, don't try to pull them off. Just pour salt or tobacco over them.
Don't use liquor and cigarettes.
If there are mists covering your view, continue the trekking only after it depletes.

Contact

STD CODE: 04935
Trekking permitting authority, DFO, North Wayanad: Ph: 04935- 240233
Tirunelli forest station: Ph: 04935- 210377
Begur range officer: Mobile: 09447449119

Useful Info

Trekking Fees: Rs.8.00 for a group of 5 persons, Rs 100 for extra person, For foreigners, Rs 1000 for 5 member group.

Tips

Trekking starts from North Wayanad Forest Division 18. First point: Watch tower (3km away), Then Kerala-Karnataka border (2km from watch tower). Cross Pancharathodu in Karnataka (2 kms from Kerala-Karnataka border). Pakshipathalam is just 500m away from Pancharathodu. Total 7.5 km trekking, almost three and half hour journey.
COURTESY-http://www.mathrubhumi.com/travel
Sponsor Ads